How to Measure & Hang Curtains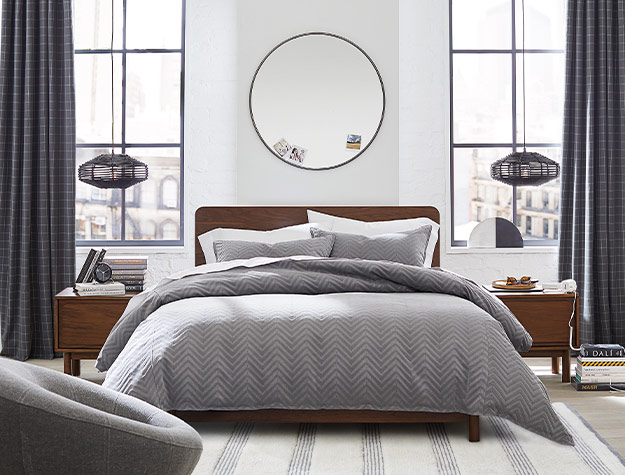 Whether you're moving into your first apartment, setting up your dorm or giving your room a refresh, a new set of curtains can instantly transform any space. Not sure how to measure and hang your curtains? We've created
a step-by-step guide to help.


Understanding How Curtain Measurements Work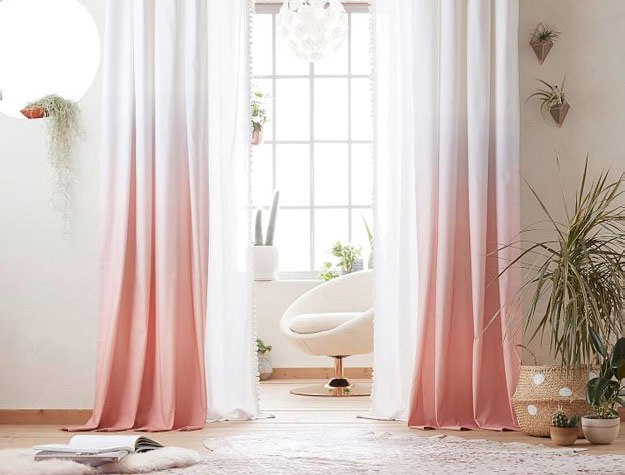 When selecting curtain sizes, measurements are typically listed with width first and length second. You have the option to buy an individual curtain or a set of two. It's a good idea to buy the set so you can get started on your window transformation right away.

It's also recommended to purchase curtains that are larger than your window, but the size it up to you! We'll help you make your choice below.

Step 1: Gather Tools & Hardware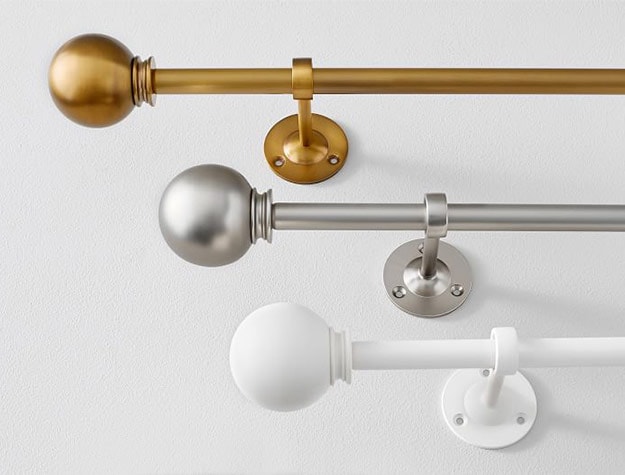 Unless you already have a curtain rod installed above your window, you'll need the right tools to add one yourself.
We recommend the following items:
• Measuring Tape
• Screws
• Electric Screwdriver
• Brackets

Step 2: Decide How You'll Mount Your Curtains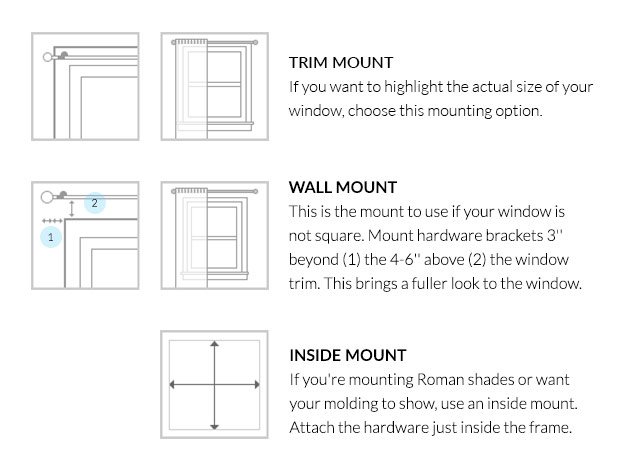 You can hang your curtains using either an outside or inside mounting technique. Outside mounting is one of the most popular looks.
To achieve this, attach the rod to the window frame using brackets rather than securing it inside. This results in a fuller, fancier look. If you prefer your curtains to look clean and simple, plan to mount the curtain rod inside of the
window frame.

Step 3: Choose Rod Length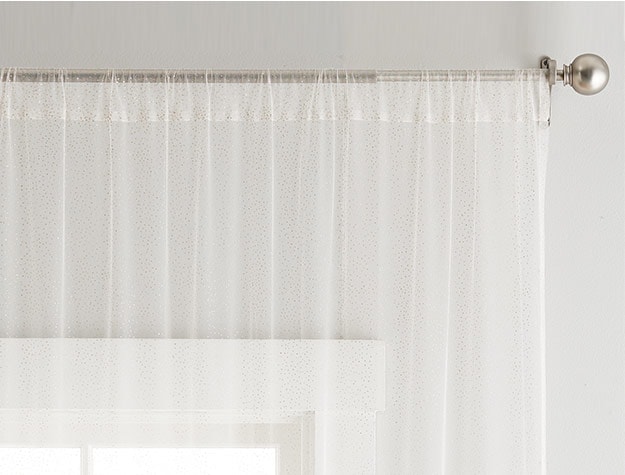 Now that you've chosen either an inside or outside mount, it's time to select the rod length you'll purchase. Most people using an outside mounting technique choose a rod that extends 3-6" past the window frame. If you're choosing an inside mount, select an adjustable rod or one that will fit snugly inside the frame.


Step 4: Pick Your Style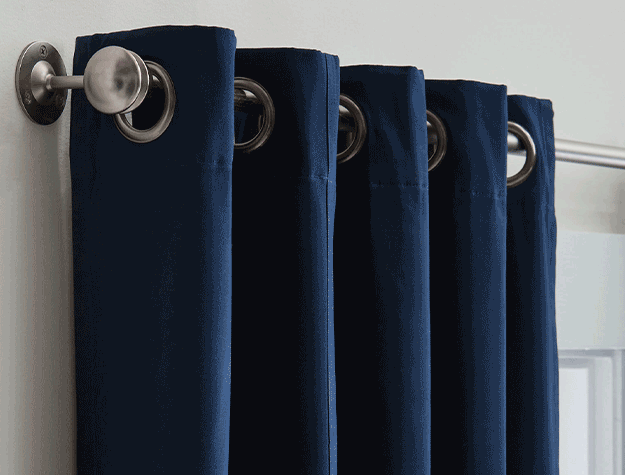 With so many curtain styles to choose from, it's important to pick one that fits your style and space. We have three curtain styles including Pole Top, Tie Top and Grommet. Don't forget curtain rings and rods while you're making
your selection.
Check out how each unique set of curtains stand out from the rest:
Pole Top
• Designed for a formal, elegant look
• Hang it up by clipping with rings or using pockets in the back
• Lined at the top for a clean, tailored feel
Tie Top
• Creates a casual yet versatile look
• Easy to install using curtain rods
• No additional accessories are required
Grommet
• Features a contemporary look for a modern space
• Easy to install using curtain rods
• No additional accessories are required
Additionally, there are various looks and materials you can select for your curtains. From classic to chic, these are some unique curtain options you can choose from:
• Cotton
• Linen
• Velvet
• Ombre
• Tassel
• Solid

Step 5: Plan How to Hang Your Curtains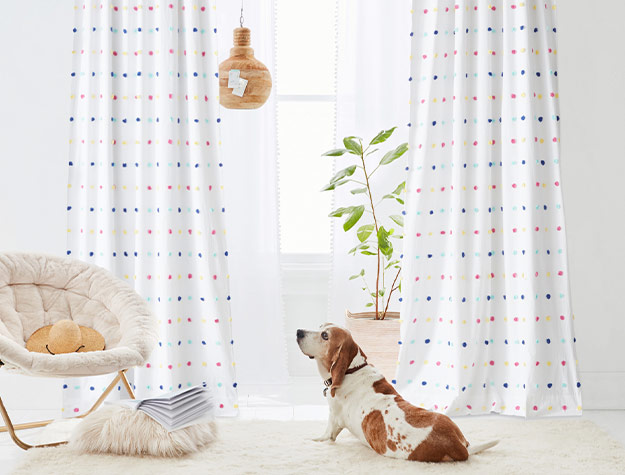 You'll need to decide how long you want your curtains to be. If you're choosing an outside mounting technique, figure out how high above your window frame you'd like to mount the rod.
Whether they're hovering just above the floor or pooling on the ground, longer curtains tend to have a more luxurious look. Shorter curtains give your room a clean and minimalistic style.

Step 6: Measure for Length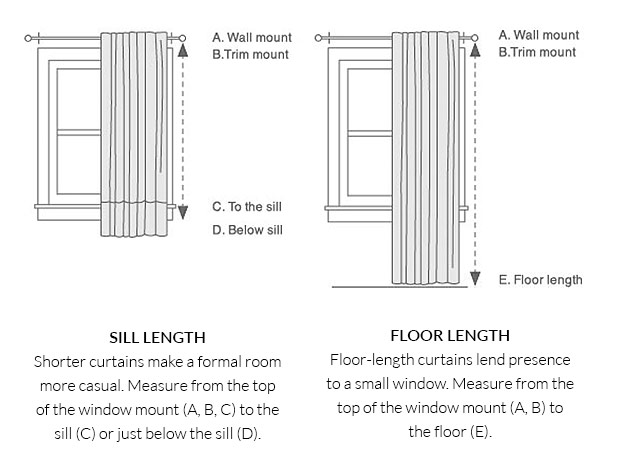 Now that you know where you're mounting the rod and how far down your curtains will be hanging, you can start to measure for length.
Depending on where you place the rod, you'll want to measure from the top or inside corner of the window frame. You could also measure however many inches above the frame you plan to mount the rod.
Measure down to where you'd like your curtains to stop. This will give you your overall length measurement. When searching for curtains to accommodate your optimal length, you should note that curtain measurements are from the rod pocket to the end of the curtain panel.

Step 7: Choose How to Filter Light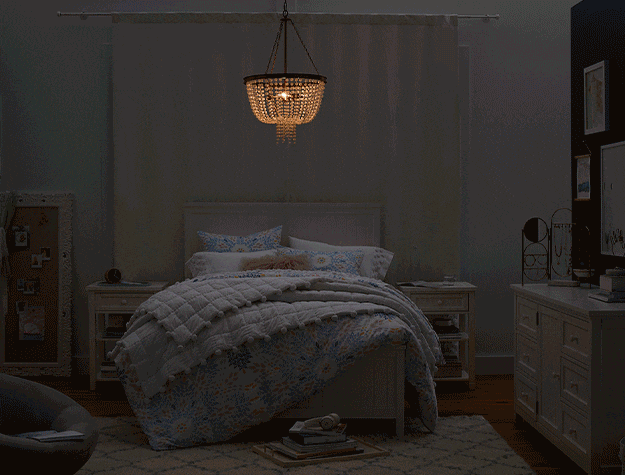 Now for the fun part: choosing the right set of curtains. There are three types of light filtering styles including blackout, semi-sheer and sheer. We recommend figuring out how much light you'd like in your room throughout the day and the mood you're going for.
Blackout
• Filters out light and sound for a better night's sleep
Semi-Sheer
• Provides moderate light filtering throughout the day
Sheer
• Provides minimal light filtering and adds extra style
Check out our must-have collection of window treatments in a variety of styles and lengths. You can shop all window coverings here.

Ready to get started on your next project? Learn about all of our different rug sizes.